THE MAINTENANCE ADVANTAGE® ADVANTAGE
INFINITI-validated fit and performance.
Expanded coverage to more INFINITI models and applications.
Competitive pricing to aftermarket alternatives.
Categories include A/C Compressors, Air Filters, Brake Calipers,
Brake Drums & Shoes, Brake Pads, Brake Rotors, Complete Strut
Assemblies & Rear Shocks, CV Axles, Electronic Throttle Bodies,
Radiators & Condensers, Wheel Hub & Bearing Assemblies, Spark Plugs, Steering Pumps & Racks, TPMS Service Kits and Wipers.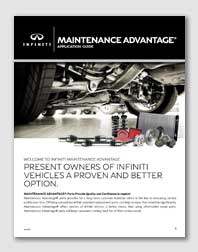 Maintenance Advantage® Application Guide